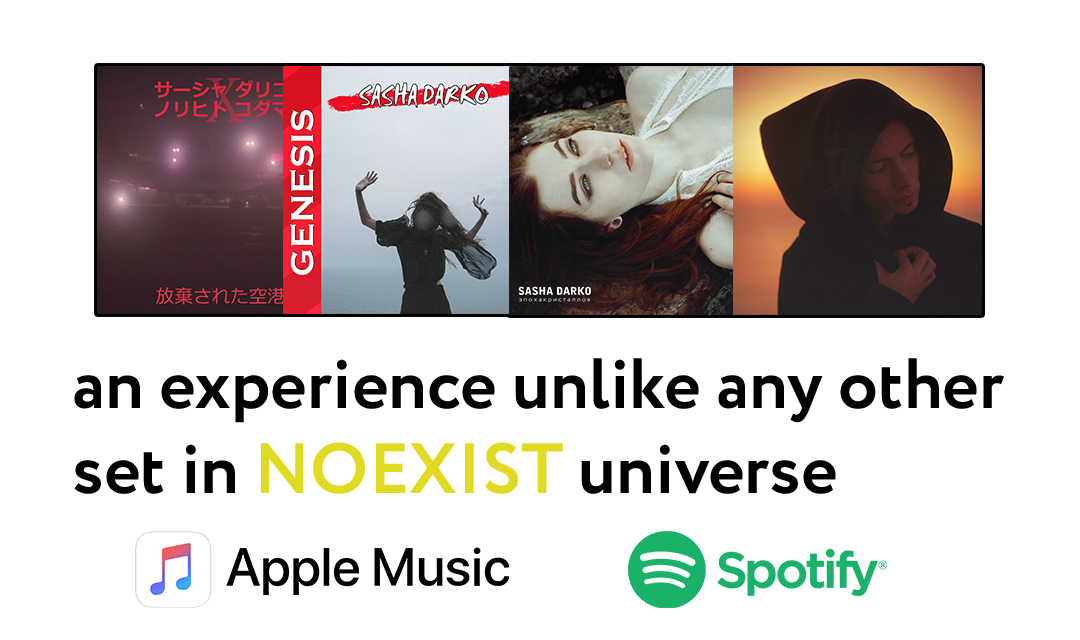 <☉                    ☉>
 HIGHLIGHTED

THE CRYSTAL EPOCH / 2021
An angelwave album which tells the story of Adel, a girl who discovered a parallel universe and made a decision to live there. Darko and featured all-female supporting cast have used such instruments as violin, flute, organ and even gigantic gate doors to weave an unique tapestry of radiant sound.
Featuring: Lunochka (vocals), Susan Hafenscher (vocals), VS (vocals), Polina Gotsmanova (violin), Anna Mikhailova (gate doors co-performer)
EECE Review 7/10

Supported by Skope / VK Musicians / Black Content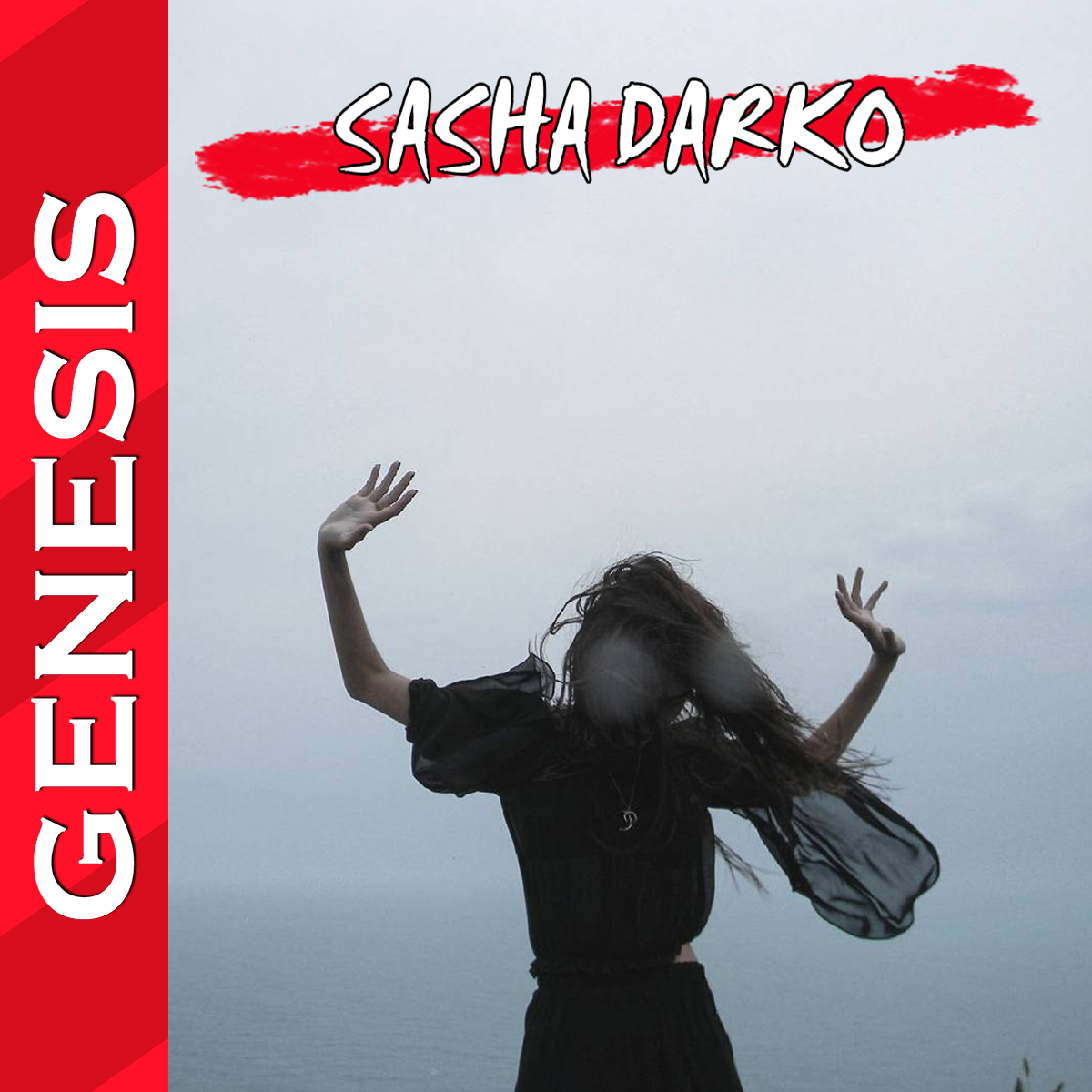 GENESIS / 2018
An uncompromisingly grim witch house album published after being 7 years in development which features a sound of Sega Genesis YM2612 chip, parallel universe sounds and a trap metal song partially written in Enochian.
ALL 4 ELEMENTS MUSIC VIDEO > 
LYRICS DON'T MEAN ANYTHING MUSIC VIDEO > 
Dark Underground Zine Review > 8/10
I Die: You Die Review > Recommended
Interview for Dark Underground Magazine >
Supported by Brutal Resonance / Threshold Magazine / MO5 / RETRO / Sanctuary / Horror Fix

Full Discography

Albums & EPs
2021 – "Solaris: Early Ambient Works" (Spotify & Apple Music, Digital)
2021 – "The Crystal Epoch" (Spotify & Apple Music, Digital)
2019 – "INLAND EMPIRE" (VK, Digital)
2019 – "Farforovaya Ovechka" (VK, Digital)
2019 – "Underwater Part II: The Surface" (Spotify & Apple Music, Digital)
2018 – "Поле, Где Я Умер: Сторона А" (VK, Digital)
2018 – "GENESIS" (Spotify & Apple Music, Digital)
2018 – "Weirdtempo Part I" (VK, Digital)
2017 – "Sent I November" w/ Вирь (CD / Cassette / Digital)
2013 – "Darkowave Demo" (Bandcamp, Digital)
2013 – "Underwater" (Spotify & Apple Music, Digital)
2011 – "Entering Channel X" (Digital, SironaRecords)
2011 – "Depth of Field" (Digital, Sirona Records)
2011 – "Awaken In The Woods" Parts 1+2+3 (Digital, Sirona Records)
2010 – "The Abandoned Airports" w/ Norihito Kodama (Bumpfoot, Re-released on Spotify & Apple Music)
Singles
2022 – "Alyi Zakat" (Spotify & Apple Music, Digital)
2021 – "Lil Snape" (Spotify & Apple Music, Digital)
2021 – "Tinder" (Spotify & Apple Music, Digital)
2020 – "Huli Mne, Nerevarinu?" (VK, Digital)
2020 – "Klassoviy Vrag" (VK, Digital)
2019 – "Posledniy Vagon Do Tzarytzyno" w/ E.Voronovsky / Cisfinitum (Bandcamp, Digital)
2019 – "Memento Re-Cut" w/ Alexei Borisov, Alexei Bortnichuk, Cisfinitum, Hutopia (Spotify & Apple Music)
2019 – "Mizogeneration" (Spotify & Apple Music, Digital)
2019 – "60 Minutes" (Spotify & Apple Music, Digital)
2019 – "Voznesenie" (VK, Digital)
2019 – "A95" (VK, Digital)
2019 – "Edelveiss" w/ Вирь (VK, Digital)
2019 – "The Torch of Compassion" (VK, Digital)
2018 – "Chinatown 90000V" (VK, Digital)
2018 – "The Night" feat. Cat Jazz and Merlin (VK, Digital)
2017 – "DOOMED" (Soundcloud, Digital)
2011 – "Odyssey 2010" (Digital, Sirona Records)
Splits
2013 – "Snakes / Seagulls" w/ Hiroshi Hasegawa [Astro] (Cassette, Black Horizons)
2010 – "Split" w/ Noon On Neptune and Electric Typewriter (Cassette, Felt Cat Records)
Soundtracks
2014 – "The Last Dogma Game Soundtrack" (Digital, Steam / Bandcamp)
2013 – "Sacred Line Game Soundtrack (Digital, Steam / Bandcamp)
Reviews:
2021 – The Crystal Epoch (by Europa E Cultura Elettronica) – Italian
2021 – Solaris (by Europa E Cultura Elettronica) – Italian
2019 – Underwater Part II (by Edkii Retzenzii) – Russian
2018 – GENESIS (by I Die:You Die) – English
2018 – GENESIS (by DarkUndergroundMusicWebzine) – English
2013 – Underwater (by Ambient Exotica) – English
2013 – Underwater (by YIKIS) – English
2013 – Split CS w/ Hiroshi Hasegawa [Astro] (by Aquarius Records) – English
2011 – Awaken In The Woods (by YIKIS) – English
2010 – Split CS w/ Noon On Neptune and Electric Typewriter (by Foxy Digitalis) – English
2010 – The Odyssey 2010 (by YIKIS) – English