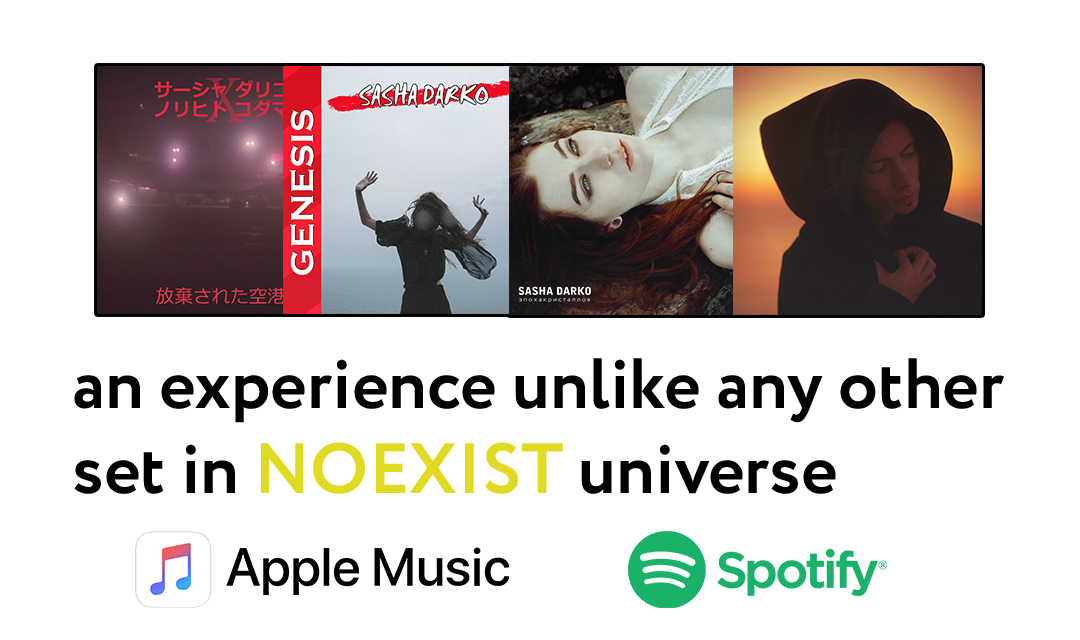 <☉                    ☉>
 HIGHLIGHTED

SOLARIS / 2021 (a compilation of tracks recorded in 2008-2009)
A drone ambient horror anthology album like Black Mirror, which presents 15 mysterious cold cases that remain completely unsolved, from the disappearance of the group of high school students who were building a time machine, to people receiving phone calls from their future selves that were warning them about their death.
All cases were anonymously published in a Telegram channel "Solaris", which was soon disabled and deleted for violation of the TOS.
Featuring: Corpoparassita (Italia), Dichotomy Engine (Serbia).
Casey Douglass Review
EECE Review
Supported by E:/Drone/Music / Moisture / Other Music

THE CRYSTAL EPOCH / 2021
An angel wave album that tells the story of Adel, a girl who discovered a parallel universe and made a decision to live there. Darko and the featured all-female supporting cast have used such instruments as violin, flute, organ, and even gigantic gate doors to weave a unique tapestry of radiant sound.
Featuring: Lunochka (vocals), Susan Hafenscher (vocals), VS (vocals), Polina Gotsmanova (violin), Anna Mikhailova (gate doors co-performer)
EECE Review
Supported by Skope / VK Musicians / Black Content 

A FIELD WHERE I DIED (Side A) / 2018 
A conceptual grim neoclassical hip-hop EP, where every track presented a different life of an album protagonist through a span of ten centuries. Released as a free download.
Prod.: off wu (China), mvdseasxn (Brazil), 6k (Brazil), Skyrunner (USA)

Supported by Marimo&CO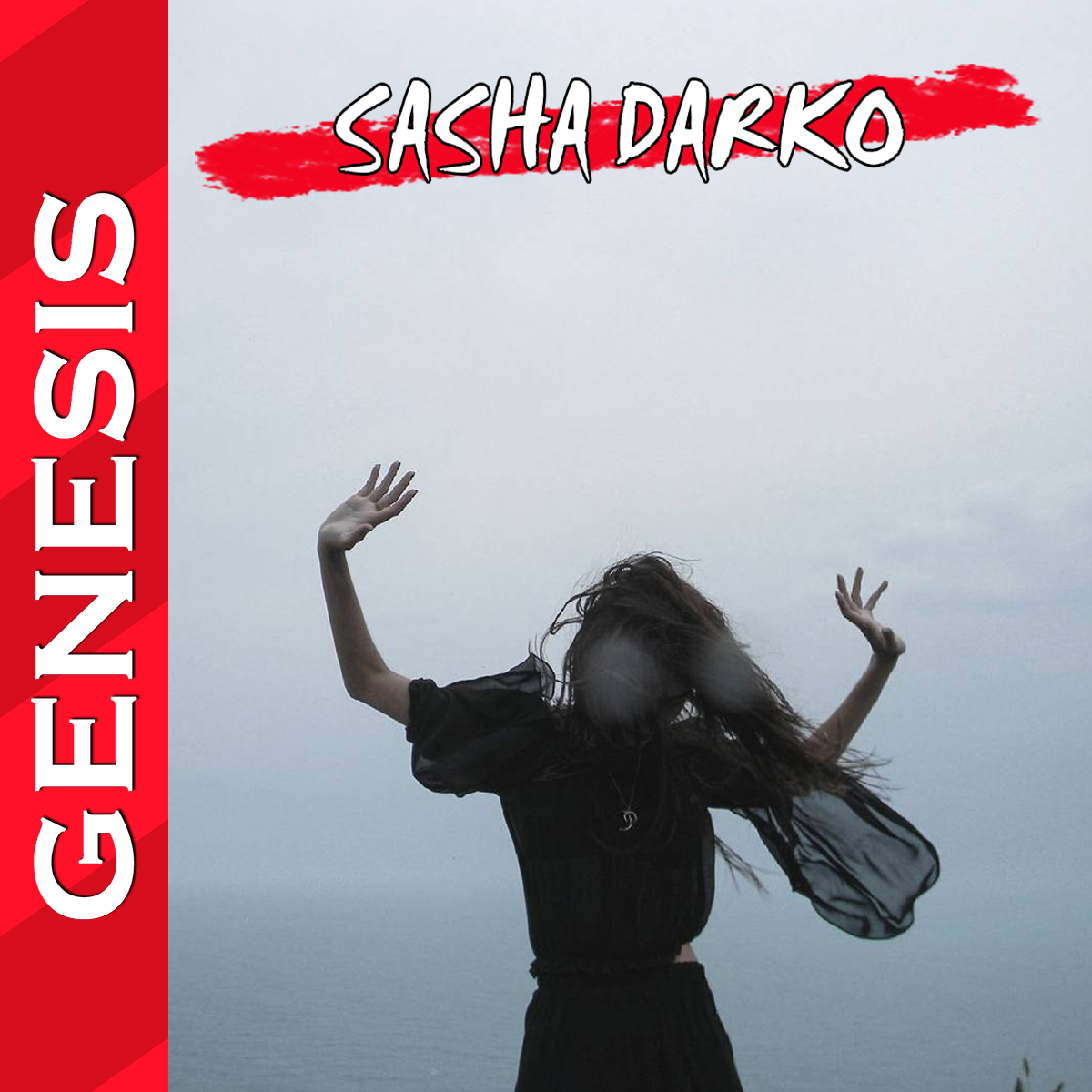 GENESIS / 2018
An uncompromisingly grim witch house album made using a Sega Genesis YM2612 chip, featuring parallel universe sounds and a trap metal song partially written in Enochian.
ALL 4 ELEMENTS MUSIC VIDEO > 
LYRICS DON'T MEAN ANYTHING MUSIC VIDEO > 
Dark Underground Zine Review > 8/10
I Die: You Die Review > Recommended
Interview for Dark Underground Magazine >
Supported by WBOR 91.1 FM / Mike Textbeak / Brutal Resonance / Last Day Deaf / Threshold / MO5 / RETRO / Sanctuary / Sicmaggot / Terra Relicta / Horror Fix


SENT I NOVEMBER / 2017
An instrumental post-metal / sludge metal collaboration with a Moscow band VIR', dedicated to Tove Jansson's book "Sent I November".
IPhones.ru: 10 Music Albums of 2017 You Had Missed But Should Listen

Supported by E:/Music/Sludge / Doom / TM Metal / Katabasia

UNDERWATER  / 2013 
A light ambient album dedicated to the past, present, and future of the water world.
Using several synths, guitar, flute, and water recordings, Sasha manages to create the atmosphere of the world where Giants from the Polysinean Era are still alive, sunken submarines are still transmitting their last signal after WWII, abandoned alien machines are analyzing the environment, and seagulls are flying and screaming above a big rock, where sirens are singing and waiting for ships.
Ambient Exotica Review
YIKIS Review
Supported by YOGA / Sound Healing / Sattva Music / The Force of Spirit / Esoterica & Psychology
 
Full Discography

Albums & EPs
2022 – "Morning Coffee Express" (Spotify & Apple Music, Digital) 
2021 – "Solaris: Early Ambient Works" (Spotify & Apple Music, Digital)
2021 – "The Crystal Epoch" (Spotify & Apple Music, Digital)
2019 – "INLAND EMPIRE" (VK, Digital)
2019 – "Farforovaya Ovechka" (VK, Digital)
2019 – "Underwater Part II: The Surface" (Spotify & Apple Music, Digital)
2018 – "Поле, Где Я Умер: Сторона А" (VK, Digital)
2018 – "GENESIS" (Spotify & Apple Music, Digital)
2018 – "Weirdtempo Part I" (VK, Digital)
2017 – "Sent I November" w/ Вирь (CD / Cassette / Digital)
2013 – "Darkowave Demo" (Bandcamp, Digital)
2013 – "Underwater" (Spotify & Apple Music, Digital)
2011 – "Entering Channel X" (Digital, SironaRecords)
2011 – "Depth of Field" (Digital, Sirona Records)
2011 – "Awaken In The Woods" Parts 1+2+3 (Digital, Sirona Records)
2010 – "The Third Side Of Life" w/ Ricardo Rucini (Electro Rucini, Re-released on Spotify & Apple Music)
2010 – "The Abandoned Airports" w/ Norihito Kodama (Bumpfoot, Re-released on Spotify & Apple Music)
Singles
2023 – "Find Me" w/ SINE (Spotify & Apple Music, Digital) prod. Sasha Darko
2023 – "Dune" (Spotify & Apple Music, Digital) prod. YS
2022 – "Sasha Darko" (Spotify & Apple Music, Digital) prod. Sasha Darko
2022 – "Alyi Zakat" (Spotify & Apple Music, Digital) prod. 1812
2021 – "Lil Snape" (Spotify & Apple Music, Digital) prod. Sasha Darko
2021 – "Tinder" (Spotify & Apple Music, Digital) prod. Sasha Darko
2020 – "Huli Mne, Nerevarinu?" (VK, Digital) prod. thec0rp53
2020 – "Klassoviy Vrag" (VK, Digital) prod. Under Math
2019 – "Posledniy Vagon Do Tzarytzyno" w/ E.Voronovsky / Cisfinitum (Bandcamp, Digital)
2019 – "Memento Re-Cut" w/ Alexei Borisov, Alexei Bortnichuk, Cisfinitum, Hutopia (Spotify & Apple Music)
2019 – "Mizogeneration" (Spotify & Apple Music, Digital) prod. thec0rp53
2019 – "60 Minutes" (Spotify & Apple Music, Digital) prod. Sasha Darko
2019 – "Voznesenie" (VK, Digital) prod. esc.ili.user
2019 – "A95" (VK, Digital) prod. DNA
2019 – "Edelveiss" w/ Вирь (VK, Digital) prod. Sasha Darko & ВИРЬ
2019 – "The Torch of Compassion" (VK, Digital) prod. Mytischi
2018 – "Chinatown 90000V" (VK, Digital) prod. BLACKSHEEP
2018 – "The Night" feat. Cat Jazz and Merlin (VK, Digital) prod. Sasha Darko
2017 – "DOOMED" (Soundcloud, Digital) prod. Sasha Darko
2012 – "Silencio Sepulcral" feat. Epidemia & Applecore (CD, Spotify & Apple Music)
2011 – "Odyssey 2010" (Digital, Sirona Records) prod. Sasha Darko
Splits
2013 – "Snakes / Seagulls" w/ Hiroshi Hasegawa [Astro] (Cassette, Black Horizons)
2010 – "Split" w/ Noon On Neptune and Electric Typewriter (Cassette, Felt Cat Records)
Soundtracks
2014 – "The Last Dogma Game Soundtrack" (Digital, Steam / Bandcamp)
2013 – "Sacred Line Game Soundtrack (Digital, Steam / Bandcamp)
Reviews:
2022 – Solaris (by Casey Douglass)
2021 – The Crystal Epoch (by Europa E Cultura Elettronica) – Italian
2021 – Solaris (by Europa E Cultura Elettronica) – Italian
2019 – Underwater Part II (by Edkii Retzenzii) – Russian
2018 – GENESIS (by I Die:You Die) – English
2018 – GENESIS (by DarkUndergroundMusicWebzine) – English
2013 – Underwater (by Ambient Exotica) – English
2013 – Underwater (by YIKIS) – English
2013 – Split CS w/ Hiroshi Hasegawa [Astro] (by Aquarius Records) – English
2011 – Awaken In The Woods (by YIKIS) – English
2010 – Split CS w/ Noon On Neptune and Electric Typewriter (by Foxy Digitalis) – English
2010 – The Odyssey 2010 (by YIKIS) – English