With the game's unique dice-based fighting system and multiple endings, it will be an interesting horror experience that will be hard to forget.
–
Screen Rant
…a game that masterfully turns the usually very family-friendly Genesis look into some of the most brutal imagery we've ever seen
–
Cracked
Sacred Line brings an unique Sega Genesis experience never seen before on the platform
– TechnoVortex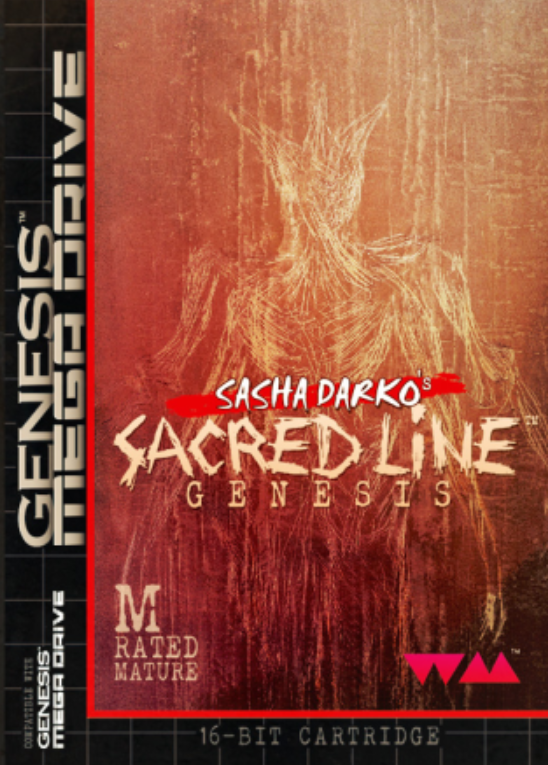 Sacred Line Genesis is a brand new Graphic Adventure game developed exclusively for Sega Mega Drive / Genesis console. It's an extended version of the original Sacred Line game.
It tells the story of Ellen, a private detective, who is trying to survive in Eastern Europe. Lately detective business, which she inherited from her missing sister Sarah, almost ceased its existence and one day before she was going to close her office she got an anonymous call. The unknown asked her to find some hidden forest outpost and told her about its position. That was just the beginning.
Sacred Line II is available here.

あなたは、東欧で生き残るためにしようとしているエレン、私立探偵を演じている。最近、彼女のビジネスはほとんど存在しないとなると、彼女は彼女のオフィスを閉めるつもりだった一日前に、彼女は匿名電話があった。未知のは、彼女がいくつかの隠された森の前哨基地を見つけるように頼まれ、その位置を彼女に話した。それはいつものいたずらや精神病質者と思われたが、他の全要求を除いて何かそれについて非常に奇妙だったし、呼び出し側の女性の声は非常に精通していました。午前中にエレンは、検索の際に運転しただけ、日没後の彼女は最終的に閉鎖の近くの森の小屋を見つけましたが、それでも軍事基地をよく守った。それはただの始まりだった。
Features:
– High quality 3D graphics (optimized for CRT TV)
– PCM Audio soundtrack (which sounds like a GBA output, and it won't be slow for PAL users)
– Unique and memorable setting, story and environments
– Text-based dice fighting system (ideally you need a dice, but you can also play without it)
– Multiple endings: normal, secret and deaths, deaths, deaths
– Don't be frustrated: if you die, you'll start from the last checkpoint
– In-game enclyclopedia will help you learn more about characters
Not so good features (GINCS-specific things you may not like)
– Cartridge release won't boot on TMSS Model 1 models, but you can use Game Genie to fix it
– The game uses GINCS engine, its Visual Studio modification. Which uses basic WAV Z80 Player and WAV files cannot be stopped immediately there, they will always play to the end. Not everyone will take it as a problem but it must be mentioned.
– Text has no shadows. Somehow, just theoretically, IF you're crazy enough and decided to play any GINCS game via very, very, very bad RF connection on a very, very, very bad, just simply broken LCD screen and there's also gas all around you plus myst which looks like the one from that Stephen King movie…then in-game text will be hard to read. But nobody ever reported that kind of problem since GINCS was created (2006)…except Fonzie. There's a 99% possibility that you need to be Fonzie to experience such a problem.
– There is a super exotic GINCS bug which was reported by a GenDev user: the game might crash if you will insert gun or mouse to Port 2. Why would you put your mouse in a second port, to play Cannon Fodder on a party?
[collapse]
Cartridge Release Photos + Bonus
---
Trivia (Did You Know?)
The development took about 2.5 years and the text was revised by six people.
Cartridge cover is based on the original art of digital release cover and was itched by Fonzie (Watermelon) on a metal piece.
---
Wiki
Everybody's Wiki
Sega Retro
Top 10 Lists
10 Best Modern Games Made for Old Consoles
10 Scariest Sega Genesis Games by Screen Rant
Top 10 Spookiest Sega Genesis Games by Horror Geek Life
Reviews – Digital Version 1.0
Video Feature in Game Sack Episode 94 (US, English)
Review by Retro Gamer #124 (UK, English)
Review by Retro Gaming Magazine #1 (US, English)
Previews – Digital Version 1.0
Preview by Retro Gaming Magazine (US)
Preview by Retro Game Network (US)
Preview by Sega-16 RR (Frank James Villone) (US)
Preview by Indie Retro News (US)
Press News – Cartridge Release 1.2
English: Cracked / Bloody Disgusting / Rely On Horror / Destructoid / IGN / Retro Gamer / Siliconera / Twinfinite / TechnologyTell / RetroCollect / Retro Gaming Magazine / Sega Nerds / Hey Poor Player
International (Non-English): T3N (DE) / SH Downloads (Argentina) / GamerFocus (Colombia) / VOXEL (Brazil) / PSX Extreme (Poland) / TechnoVortex (Brazil) / MO5 (France) / Retromaniac / Paper Blog (Spain)
News from Blogs: Paciente Sero S.A. (Spain) / The Sega Freak (Brazil) / Retro Treasures (US)
YouTube / Text Reviews – Cartridge / Digital Release 1.2
Video Review by Gunstar (US)
Video Review by Retro Gamer Boy (UK)
Video Review by ashthedragon (Spain)
Video Review by Oldschool is beautiful (France)
Video Feature in Nostalgia Dos Games in episode "Jogos novos para consoles antigos" (Portugal)
Video Feature in Human Retro Gamer episode "Los 10 mejores juegos de Terror para Sega Genesis" (Peru)
Video Series Retrospective (31 Days of Sega Spookies – Episode 20) by Sega Scream (US)
Sega-16 Reader Roundtable Review by Joseph C. (US)
Game Treasure Magazin In-Depth Review by Gordman (Germany)
Another Castle Review by Averagus (Australia)
Pixel Madness Review (Germany)
Darth Sega Unboxing & Review (US)
TechnoVortex (Spain)
Press News – SLG Remix PC Port
Siliconera | Mega Visions | Elboton Select | Tallon4 | Pato Gamer
Press about Sacred Line Zero (Sacred Line II Prototype)
Unseen64 (English) / MO5 (French)
Press about conflict with the publisher
ROMGame / JeuxVideo / Commenjouer (French)
Sacred Line Genesis – Spanish Fan Translation
Available as an IPS patch here: https://www.elotrolado.net/hilo_sacred-line-genesis-en-castellano_2362950

Screenshots (1.0 version):
Photos: